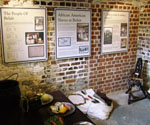 The conflict between the haves and the have-nots, the enslavers and the enslaved, the righteously religious and the spiritually driven, was waged in Bowie as much as any Maryland town. Several individuals epitomized the complicated struggle between those who fought for what they believed was right and those who fought to maintain their rights. Some of the prominent citizens, religious figures and black and whites who participated in this battle are profiled in the following sections.
Biographical Series
White Marsh was first called St. Francis Borgia, and was one of the early Catholic Jesuit Missions in the English colonies. The land where Sacred Heart sits are from acres of land bequest from James Carroll, cousin of Charles Carroll of Annapolis, to George Thorold, a Jesuit priest. Upon the death of James Carroll in 1729, George Thorold of Charles County, and his fellow Jesuits took possession of the land and developed a farm, which they called White Marsh Plantation. White Marsh was the center of Catholic life in Prince George's County. The Fathers who resided there made missionary trips to various locations in the county and to Annapolis, Baltimore, Doughoregan Manor and areas of the present day District of Columbia. More >>
George Cooke Ogle was born 1817 at Belair Estate, in Prince George's County, Maryland to Benjamin Ogle, Jr. and Anna Maria Cooke. Ogle inherited Belair from his widowed mother Anne Maria Cooke Ogle when she died December 30, 1856. He married his maternal first cousin Anna Maria Cooke, daughter of George and Ellen Dall Cooke, October 12, 1853, at Hazelwood in Anne Arundel County. The Ogle's had two sons Benjamin(b.1854) and George Cooke Ogle, Jr (b.1857). More >>
Benjamin Ogle was born in 'Ogle Hall' in Annapolis on January 27, 1749, the son of Samuel and Anne (Tasker) Ogle. His father had been the proprietary governor serving approximately fourteen years in that office. When Benjamin was only three years of age his father died, so he was raised by his grandfather, Benjamin Tasker, who succeeded to the governor ship upon Samuel Ogles death in 1752. Under the terms of his fathers will, young Benjamin acquired 'Belair,' the Ogle family estate in Prince George's County. More >>
Richard Lowndes Ogle was born 1819, at Belair Mansion to Benjamin Ogle, Jr. and Anna Maria Cooke. He was the grandson of Governor Benjamin Ogle who also lived at Belair prior to his death in 1809. In December 1846, Richard married Priscilla Mackall Bowie daughter of Robert and Catherine Lansdale Bowie at the Bowie family estate, Mattaponi. The Ogle's lived at Bladen, which was a home situated on land that was an extension of Belair, in Prince George's County. Together Ogle and his wife had seven children Anna Maria, Catherine Lansdale, Frances Cornelia, Caroline Lansdale, Richard, Jr., Louisa, and Susan. Priscilla died August 21, 1859 and Richard Ogle married for a second time to Fanny D. Knight of Vermont. Richard and his wife resided at 1801 W. Lexington, in Baltimore, MD and had the following children: Mary, Rosalie, Randolph, and Henry. Richard was employed as a judge in the Orphans Court of Prince George's County. More >>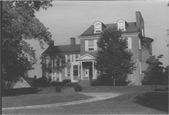 Melford, a two-and-one-half story brick manor house, sits on a tract of land originally called Howerton's Range. Howerton's Range was a 400-acre parcel that John Howerton obtained in 1670 from land that was at the time Calvert County. Dr. Richard Duckett built Melford in 1810 in the Greek Revival Style, a simple, bold style that avoided the ornamentations of old European architecture. A pump house, meat house, barn, and family cemetery also stand on the property. A slave cabin stands to the north of the house, and the 1850 slave census lists at least thirty-nine slaves living at Melford under the Ducketts, ranging in age from 85 years to 4 months. The Duckett family owned the Melford estate for the majority of the 1800s.
More >>
Richard Duckett was born circa 1831 in Maryland to Thomas Duckett and Catherine Elizabeth Worthington Goldsborough. This Richard Duckett is descended from the Judge Allen Bowie Duckett line of the Duckett Family. Richard was raised by his great uncle, Dr. Richard Duckett, after the death of his father Thomas in 1849. The Duckett family lived at Melford, in present day Bowie, MD, which Richard would inherit from his uncle Dr. Duckett upon his death in May of 1854. Richard Duckett married Elizabeth Margaret Waring, daughter of Col. John H. Waring, on June 2, 1856 in Prince George's County. The Ducketts had one child, a daughter named Katherine Croswell Duckett (Kate). More >>
John Ashton, a Jesuit missionary, was born in 1742 in Ireland. He entered the society of Jesus on September 7, 1759, and was sent to work in Maryland in 1767. Ashton was in charge of the White Marsh Mission, in Prince George's County for thirty-nine years. Ashton was one of the early contributors to Georgetown College and in 1784 was named Procurator General. More >>