Research Resources
Census Data
African Americans in Maryland Census Data from the University of Virginia Historical Censor Browser.


Maryland Census Data 1790-1880


Dorchester County Slave Purchasers, 1823-1836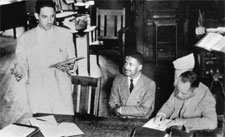 Documents & Electronic Texts
Classroom packets designed for use by teachers and students. Rare books and reprinted archival material available in an electronic format.

Documents for the Classroom


Electronic Texts

Maryland Law
Legal backing for those working to keep or apprehend slaves. The laws attempted to make escape more difficult by punishing those who helped a slave escape.


History of Runaway Laws