Research Resources
Census Data
African Americans in Maryland Census Data from the University of Virginia Historical Censor Browser.


Maryland Census Data 1790-1880


Dorchester County Slave Purchasers, 1823-1836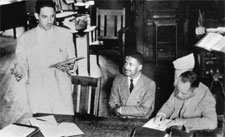 Documents & Electronic Texts
Classroom packets designed for use by teachers and students. Rare books and reprinted archival material available in an electronic format.

Documents for the Classroom


Electronic Texts



Maryland Law
Legal backing for those working to keep or apprehend slaves. The laws attempted to make escape more difficult by punishing those who helped a slave escape.


History of Runaway Laws


Archives Resources
African American History Resources
Primary and secondary source materials housed at the Maryland State Archives for study. These finding aids catalog various series of slavery related records such as Certificates of Freedom and Manumissions.
Guide to Researching African American Families
African American Resources
Freedom Records of Prince George's County
Frequently Asked Questions
Guide to Ethnic Research in Maryland
Guide to History of Slavery in Maryland
Rededication of the Martin Luther King, Jr.
USCT Special Collection
War of 1812

Auxiliary Sites
Highlights specific collections of materials which provide launching points for in-depth study. In addition, Legacy of Slavery Research Presentations offer the experienced and novice historian a glance at some of the topics our own Legacy of Slavery staff have broached in seeking to further examine African American life in Maryland.

Bibliography
This list contains a selection of works we have found helpful in our study of the Underground Railroad. It is a working bibliography, and more sources will be added as the project progresses. A Working Bibliography for Beneath the Underground: The Flight to Freedom
Grants
The Beneath the Underground Project has been made possible due grants from the National Park Service and the Department of Education. The Maryland State Archives thanks them for their past, present, and continuing support.

Historical Essays
To understand how the underground railroad functioned in antebellum Maryland, a slave state, it is important to examine the daily surroundings, communities, and activities of the slave population. View Historical Essays

Slavery Commission
Series of volumes in the Archives of Maryland website relating to the history of slavery in Maryland. View Slavery Commission Webpages